This website was created to research, chronicle, and present information in a factually accurate and thoroughly documented manner, about the deliberate persecution and crusade to destroy Sri Nithyananda Swami (also known as Paramahamsa Nithyananda and lovingly known to his devotees as "Swamiji") and his mission of world peace by vested interests.
The purpose of this website is to set the facts straight about Sri Nithyananda Swami, and present the truth about him to clear his name for anyone who has had the misfortune of being exposed to the blatant lies spread about him by vested interests and tabloid media.  In a way, it is also meant to finally bring clarity and answer in one place all of the misinformation and lies which is just floating out there on the internet and continues to damage people's perception of Swamiji, long after the media storm has passed and he has been vindicated multiple times in USA courts.
Everything on this website is presented in a logical step-by-step historical timeline, and each key point is documented with credible evidence and public records, including court decisions in the USA and US appeals court, and Karnataka High Court.
Contrary to what the Indian news media, or various personal hate blogs out there publish to further slander Sri Nithyananda Swami's reputation, we actually present everything clearly in a step-by-step format where the reader can go and fact-check and research every single event presented on this website.
We are confident that any logical person will clearly notice the overwhelming evidence which both exonerates Sri Nithyananda Swami, and exposes the malicious false accusations against him.
Why this Website is Needed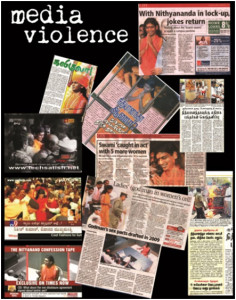 Simply put, there is no forum or place on the entire internet for the REAL TRUTH about the persecution against Sri Nithyananda Swami to be exposed.
The Indian news media has clearly demonstrated they have no interest in printing the truth, and the idea of "media accountability" or "fair and balanced" is just a laughable concept when it comes to tabloid journalism in India.
There are millions of people out there whose lives could literally be enriched or bettered by Swamiji's global mission, meditation workshops, healing, wisdom and teachings.  If even just one person who was initially scared off due to the misinformation and media lies about Swamiji, and that person is now able to think clearly and dispel their doubts, then this website has done its job.  It is a tough job but we have strong faith in the basic logical and analytical abilities of people to clearly see what's right, after being shown overwhelming evidence documenting the conspiracy against Swamiji.
On a broader level, a slandering of one prominent spiritual leader is a slander on the entire system of Gurus, Hinduism, and Enlightenment.
So helping people learn the truth about Sri Nithyananda Swami's innocence and the crusade against him, in a way can help people understand the larger crusade against spiritual leaders from time immemorial.
We hope that this website can set the record straight and turn the tide of public opinion to finally put pressure on the authorities to dismiss the last remaining false case against Swamiji. (So far EVERY SINGLE CASE to date has been dismissed due to lack of evidence)
Recurring Themes Throughout this Website:
Trial by Media – coordinated attack to tarnish Sri Nithyananda Swami's reputation and increase ratings

From day 1 Sri Nithyananda Swami was guilty until proven innocent, the media accused, tried, and convicted Sri Nithyananda Swami in a well-orchestrated media smear campaign designed to maximize viewership and ratings.

"Presstitude" and PAID Tabloid Media that will publish anything for viewership and advertising dollars including knowingly false lies, just to increase ratings.  Paid media is even worse than tabloid media because they can be easily bought off to publish false news. Throughout this website you will see sanctions and orders by governing bodies against various newspapers and TV channels forcing them to print and air apologies for knowingly releasing false information against Sri Nithyananda Swami… but of course the damage is already done and it's too little too late.  Additionally you'll see that the very morphed video aired by SunTV which sparked the entire controversey, was later admitted to be morphed and part of a larger pattern of blackmail and extortion by SunTV's own executive management!

Illegal arrest

His arrest was totally contrary to established law, and he was illegally held in prison without bail for 53 days without any evidence.

 KARMA STRIKING BACK AT THE FALSE ACCUSERS 

Although it took some time,without exception, everyone involved in falsely accusing Swamiji has seen their entire life fall apart. We'd like to think of it as payback from the Universe… follow the timeline and the "About the Conspirators Page" to see the various court cases, criminal arrests, and other "unfortunate" incidents that befell anybody who tried to slander Swamiji and prevent his Mission of spreading peace and Consciousness through the world.

Lack of evidence

While the case has been open for 5 years there is still not ANY valid evidence.

Blatant Fraud by the False Accusers

To just get a glimpse at how ridiculous their stories and claims are, just take a look at the background facts page this website researched on the parties including their subsequent humiliations in court.

Vindication of Sri Nithyananda Swami in USA Courts after protracted legal battle

Courts dismissed every accusation against Swamiji brought by the false accusers, and even hit them with half million dollar judgements for knowingly trying to extort him with false sexual abuse allegations.

Bigger conspiracy against Gurus, Hinduism, and Enlightenment

We will continue to build out this website to document the deliberate national media slander and false accusations against various gurus and prominent spiritual leaders, which are funded by corporate and vested interests in the attempts to discredit the ancient Vedic culture and tradition of India and weaken the hearts and minds of the population. Not all the Gurus were as lucky as Sri Nithyananda Swami… many have been falsely imprisoned for years, having been finally released without even an apology or minute of coverage from the Indian Media.  From Osho to Kanchi Shankaracharya being crucified, the list of prominent spiritual leaders who were deliberately attacked by powerful vested interests is long and well known.

The suffering of Sri Nithyananda Swami's devotees and followers 

In addition to literally being attacked physically in the ashram and almost beaten to death, and many followers persecuted throughout India just for wearing Swamiji's Mala or having a picture of him… there are countless people from around the world who also suffered deep emotional pain as a result of the persecution of their beloved Guru. We will continue to build out this website with their reminiscences.

Sri Nithyananda Swami's patience, grace, and spiritual strength throughout the entire scandal

They tried to put him in jail and destroy him, he ended up rising like a phoenix and multiplying the size of his mission, followers, philanthropy and social service. To many, his patience, grace, and humility and redoubling his philanthropic efforts, even while the media, police, and government attempted to slander, humiliate, and destroy him says more about his innocence than anything else.
Why Somebody Would Want to Hurt Swamiji?
Sri Nithyananda Swami is a dynamic young leader who has literally captured the hearts of millions of devotees world wide. Additionally he is a reviver of ancient Vedic and Hindu traditions, and is dedicated to raising the consciousness of the planet and urging people to "wake up" – to take back control and ownership of their bodies, minds, and spirits against vested global interests that would like to keep the average man dumb, broke, and a mental slave.  Obviously this is going to create enemies.  But the people involved in the conspiracy are using the crudest strategy: false accusations using the only tactic in their handbook – making false sexual allegations.  Because they knew once allegations are made public, somebody is guilty until proven innocent. And even after that, their reputation will be forever tarnished.
How to Navigate this website..
First you should get familiar with the background on the conspiracy, and exactly who had motives to extort Sri Nithyananda Swami, and why they did it.
Now let's take a journey into the truth and a documented tale of conspiracy and intentional slander that reads like something out of a Hollywood (or Bollywood)  thriller.
You can start by reading the background and history of the main false-accusers and co-conspirators HERE.
Then you can compare their "credentials" with those of Swamiji, who is world-renowned for his philanthropy, spiritual leadership, social activism, and efforts to raise the Consciousness of the planet to "wake up."
After you are done you should navigate the timeline on the main page, to see the chronological sequence of events from the false accusations, to Swamiji's vindication and exoneration in USA courts.